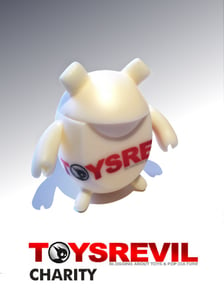 $

15.00
Cavy the Ham-Ster TOYSREVIL CHARITY EDITION
The benefit of the first 3 Hamsters is used directly to support
the hospital treatment of Andy Heng from toysrevil.blogspot.com in cause of a minor stroke.
If more Hamsters are sold, 30% of Each Hamster will be donated the same way!
The toy will be limited to 10 pieces worldwide!
- handmade Designer Toy
- white Resin
- "ToysRevil" on frontside and Logo on backside
- 2,5" high
- movable arms
- clear matte varnish
The toy comes in a clear carded bag with a straw-nest
Take it wherever you want - Fits in your pocket!
Each additional figure within one order ships for free!